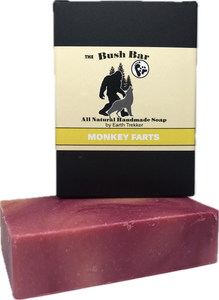 MONKEY FARTS
Set the beast within free and get your jungle on!!
Don't let the quirky name fool you—this soap is an exciting blend of nature's finest fragrances that will leave you feeling fresh and invigorated. Imagine the tantalizing aroma of ripe bananas, zesty grapefruit, succulent kiwi, and juicy strawberries all coming together in a harmonious blend.

Each whiff takes you on a sensory journey through a tropical paradise, where the sweet and tangy notes combine to create a symphony of scents that awaken your senses. You'll be playing Tarzan and Jane with your lady after lathering up with these suds!
Each bar is approximately 3.5" x 2.25" x 1"  weighing roughly 4.4oz.
Ingredients:
Olive Oil
Soybean Oil
Coconut Oil
Canola Oil
Sunflower Oil
Organic Shea Butter
Water
Sodium Hydroxide (Lye)
Fragrance
FD&C and/or mica colorants
INCI: Olea Europaea (Olive) Oil, Glycine Soja (Soybean) Oil, Cocos Nucifera (Coconut) Oil, Canola Oil, Helianthus Annuus (Sunflower) Seed Oil, Butyrospermum Parkii (Shea Butter), Aqua, Sodium Hydroxide, Fragrance. May contain FD&C color.
Please note that due to the handmade nature of this soap, color shades and swirl styles may slightly vary. Each bar is unique!